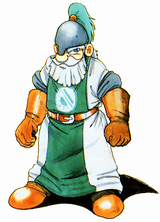 Gort is an elderly dwarf who lives in Guardiana. He won't join when talked to for the first time, being too drunk. Gort will join though after Guardiana gets invaded.
Gort is one of the best fighters in Shining Force: The Legacy of Great Intention and its remake Shining Force: Resurrection of the Dark Dragon. He's very strong and has great defense.
Ad blocker interference detected!
Wikia is a free-to-use site that makes money from advertising. We have a modified experience for viewers using ad blockers

Wikia is not accessible if you've made further modifications. Remove the custom ad blocker rule(s) and the page will load as expected.