Minister
Vital statistics
Class
NPC
Gender
Male
Race
Human
Faction
Head of Granseal Royal Court and chamberlain of King Granseal
Birthplace
Granseal
Relatives
Unknown, possibly distantly related to Granseal monarchy
Appearances
Shining Force II
Minister is a non-playable character (or NPC) in Shining Force II: Ancient Sealing.
Background
Edit
Minister in the game
Edit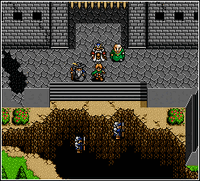 Personality
Edit
Powers & Magic
Edit
"Don't worry about him. If he dies, it doesn't matter. He's old anyway."