Mishaela
Talk

1
373pages on
this wiki
Mishaela is a powerful wizardess and prophet, Darksol's foremost disciple, and the principal antagonist of Shining Force Gaiden: Final Conflict. Two boss fights in Shining Force I and one boss fight in Shining Force Gaiden: Final Conflict are against dolls of Mishaela; Mishaela herself also appears as a boss in Final Conflict. An alternate universe version of Mishaela appears in Shining Soul.
Background
Edit
Mishaela is capable of creating dolls of herself and imbuing them with portions of her own power. These dolls are often almost indistinguishable from the real thing.
Outside of Shining Force Media (Cameos)
Edit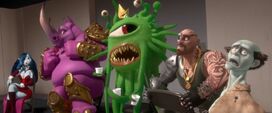 Mishaela appears in the Disney Animated film "Wreck-It-Ralph" as a cameo along with other video game villains in a villains' support group, Bad-Anon: One Game at a Time. She is the only female in the group. They make a personal bad guy credo after the seminar is over.